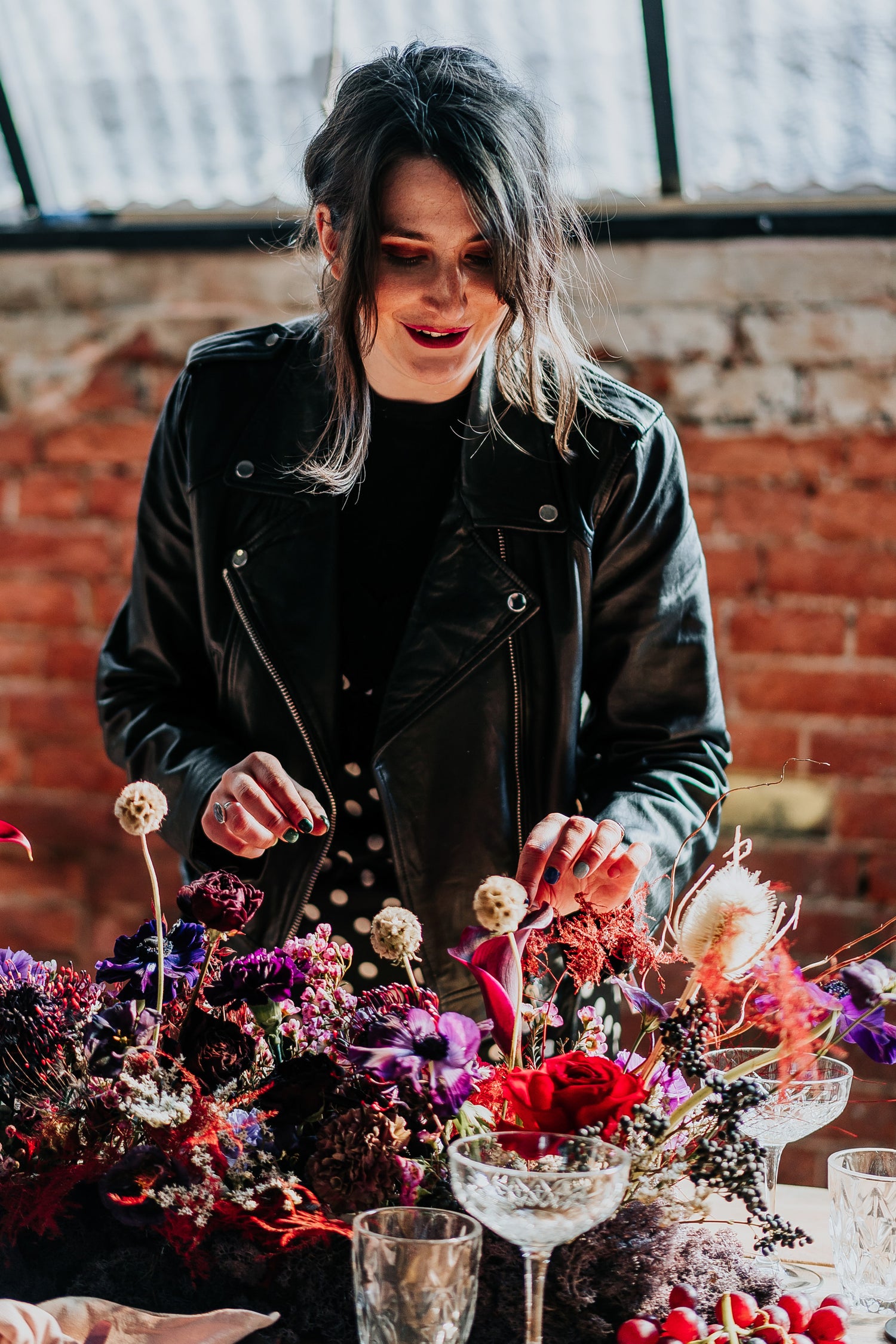 About Me
Hello flower lover! My name is Alex Wilde and I'm the (slightly camera shy) face behind the flowers. My journey into floristry was a little unexpected. At the start of the pandemic I was made redundant from my career as a Regional Visual Merchandiser. I knew I wanted to stay in an industry that would allow me to continue within a creative role and I wanted to do something that would present a new challenge every day. Flowers were calling me and so with my redundancy payout I took the plunge, bought my first lot of stock and turned my spare room into a makeshift studio.
Fast forward two years and I'm now in my very own studio space based in Caerphilly, with all the space I need to make flower magic happen. I'd love to invite you in for a cuppa and a chat so we can begin to make your floral dreams a reality!

Image Credit: Stephanie Butt Photography
Planning a Wedding?
Wedding Flowers FAQs

Image Credit: Pix by Vix www.pixbyvix.com

You've picked a date, landed your dream venue and now it's time to think about flowers! I may be a tad biased, but I think flowers add the magic to your special day. When you think about it, they will feature in nearly all of your wedding photos so it's important to choose a florist who you love.

Here's a list of FAQ's to cover the essentials.

Do you have a minimum spend?

My minimum spend for set up and installation of flowers at the venue on your big day is £1500. Typically this would include bridal party flowers, table decor and perhaps some larger floral pieces. Bigger budgets will allow for statement installations such as a show stopping arch or hanging flower cloud. 

Why do florists have minimum spends in place?

This is partly due to the flower buying process. Often we have to buy flowers in 'wraps' of up to 50 stems of one type of flower. As you can imagine, most weddings require multiple varieties to create the desired effect meaning we have to buy hundreds, even thousands of stems to deliver your vision. There are hours of prep work that go into wedding flowers which I'll go into further below.

What if I have a small wedding or budget?

I can cater for this too! Perhaps you are just looking for bouquets and buttonholes and some simple table decor. If you have a budget of £500 and over (smaller spends see below) you can opt to collect fresh flowers from the studio the morning of your wedding. Delivery for local weddings can be discussed. I can work to a colour palette of your choice but I will make decisions over particular flower varieties to ensure you get maximum impact for your spend. 




Image Credit: Gail Secker www.gailsecker.com

Do you do dried flowers?

Absolutely! Wilde Posies was born from creating dried arrangements and I specialise in holding a large stock of dried and preserved stems at the studio. This means I can create all dried wedding packages with no minimum spend for the ultimate fuss free wedding flowers. The beauty of dried is they can be posted (if you live further afield) or collected well ahead of the event meaning you have one less thing to worry about closer to the day.

I have sent wedding flowers all around the country to couples from all corners of the UK. If  you are getting married abroad they can also be taken on the plane with you to your destination, my bouquets have done way more travelling than I have recently!

And the best bit? You get to treasure them well after your big day is over. 

 

Image Credit: Pix by Vix www.pixbyvix.com

What is your booking process?

1. Contact Form


Firstly you fill out the contact form with as much information as possible. Your wedding date and venue (particularly important if you are looking for an on the day set up or fresh flowers) so we can check availability is crucial. Tell me about you both! Maybe you absolutely love a particular band, film or country? Give me some nuggets so I can get a feel for who you are and what you are about! And of course your flower vision, are you thinking rainbows or all whites? Rustic or super modern and cool? Don't panic if you aren't sure either, we can figure it out at the consultation stage.

All I ask if that you've had a look at my previous work and like my style to make sure we are a good fit. 

2. Consultation 

Next we arrange a consultation where we can discuss everything together. This can take place over the phone, a zoom call or you can come and meet me in person at my studio in Caerphilly. This is where I can make suggestions on the optimum way to utilise your budget. Often flowers can be repurposed throughout the day for maximum impact and I'm full of ideas so you can make the most of them. If you have any colour preferences, a working moodboard or mad ideas; bring them all to the table as I love to hear them! 

3. Mood Board and Quotation

From the notes taken during our consultation I will create you a bespoke mood board and quotation to bring your ideas to life. In doesn't matter at this point if quantities or decisions aren't 100% nailed down, we can make some amendments closer to the wedding if you wish.

4. Deposit

I ask couples to pay a 20% deposit to lock in your date and do a little happy jig that you chose me!

5. Six weeks before the wedding

We have a catch up, run through the flower plans to check there are no changes and seal the deal. Logistics for the morning of set ups/ deliveries etc will be confirmed to ensure it's all plain sailing. Final payments are sorted and it's time for me to do the hard work!

 6. The Magic Happens

I order your flowers based on our discussions and mood boards. If you are having all dried, I may have started buying these months ahead depending on availability. Fresh flowers will arrive at the studio two or three days ahead of the day depending on the time they need to open up and look their absolute best.

Then the conditioning process begins. Flowers are cut, unwanted leaves removed and they are placed in to spotless buckets where they can drink and settle from their long journeys. I will prep any vessels or 'mechanics' needed, often using chicken wire ready to secure stems in place. The next two days are a whirlwind of arranging and creating anything that can be made off site. The night before the wedding everything is safely packed into boxes and crates, all ready to be transported to you and your venue the next day. 

The morning of the wedding will vary depending on your order. Any large scale installations will need to be assembled on site and I may need a team to assist me to ensure this is completed in good time before guests arrive. Wedding party flowers will be delivered to you as arranged. After a frantic morning of installing, tweaking, running up and down ladders, sweeping and loading buckets back in to the van, I disappear into the background and let the day commence!

The following day we may have arranged for me to come back and dismantle any installations or collect hire items. All flowers are yours to keep and so your responsibility to remove from site. I will place any stems that still look great into buckets for you should you wish to take them home. Dried stems of course can be easily reused and loved for many months to come. 
 
Hopefully this covers the key points and questions you may have. If you'd like to talk flowers with me then fill out the contact form and let's make it happen!

Image Credit: Pix by Vix www.pixbyvix.com

 
Get in Touch

Image credit - Gail Secker Photography www.gailsecker.com


Enquiring about Wedding flowers? Don't forget to tell me your wedding date, venue and an idea of your flower budget. I'll be in touch to arrange a consultation!  

After something else? I'd love to hear from you too!

Alternatively pop me an email - hello@wildeposies.com